I was struck some years ago by the apposite title of the play about the life of Elvis...
Are you lonesome tonight?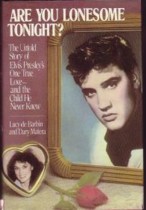 In one of those great theatre moments I remember experience catharsis at Martin Shaw's portrayal of the King. I wonder if he(Elvis) knew that this archetypal song was actually about himself. (which was the whole premise of Shaw's take on his life)
I found myself wondering about the great outpouring of grief last week on the 30th anniversary of his death. Somewhere thousands of people still resonate with the tragedy and I think wonder of Elvis's life.
Destroyed, it would seem, by the image of himself that was created by the media.
The thing I wondered about was whether he would actually survive in the world of today. There was about him a certain naïveté which was a feature of the age but is now just regarded as a thing of the past.
The young and the restless, take for example the innocents who have thrown in their lot with the lastest round of
Australian Idol,
just assume these days that they will be exploited and damaged. They are few and far between who survive the ravages of fame, which for all itsexposure and reward still would seem to be frought with loneliness and broken relationships.
If you don;';t believe me then check out the front of the
New Idea!